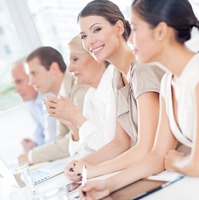 Many people do not want to "sit under the feet" of good teaching.... we are called to sit under "the truth" and not lies... many do not really want to know the truth, because many have learned to like substitutes of the truth or lies unknowingly.
"He prepares a table before me, in the presence of my enemies."
"Take my yoke and learn of Me, for my yoke/teaching is easy and My burden is light." This speaks about learning the truth and feasting upon truth.
If you teach="forgive" others for their ignorance 70 x 7 and they don't want to eat/learn....it's because they either can't "eat meat or bread" /"food that gives life" because

A. they may "be filled" with wrong information/the junk food of false teaching

B. they do not "have teeth to eat" because they have been eating the readily passed out "fast/junk food" or sugary candy and don't have enough strength in their jaws to chew the meat/truths that you feed them, or

C. They really don't want to learn because they are so undernourished they cannot get the food from the table to their mouths.
"The carnal mind is at enmity/enemies with YHWH."
"Carnal" meaning "fleshly", face value, literal meaning versus symbolic or spiritual understanding.
"He makes His "enemies" sit at His footstool." We are called "to feed our enemies" so sit down and start eating nourishing food of meat and bread.
"He prepares a table before My enemies."
"My flesh is food indeed." The meat of the word . "Man shall not live by bread alone but every word that proceeds out of the mouth of YHWH.
"Discern what is "food" and what is "not food"! We cannot eat everything that is presented to us. Learn to discern and don't tolerate false teaching.
It should all back up with scriptural truth and the truth will always present itself if "you seek, you will find. Knock and the door will be opened to you, Ask and you shall receive that your joy may be complete." "When the comforter/paraclete comes, He will teach you all things."